Microsoft Dynamics 365
Microsoft Dynamics 365 Fraud Protection
A next-generation hybrid fraud management solution is developed to increase fraud detection accuracy and improve operational effectiveness. The solution is fully integrated into our digital commerce platform: a single integration and onboarding for our payment services and Microsoft's Fraud Protection. There is no limitation on geographics or business verticals.
Features
AI-powered tool: core technology is adaptive AI, trained by the fraud protection network, which empowers machine learning and provides a broad awareness of fraud activity across the globe and within business verticals
Mixed fraud screening models: suit your business needs by choosing traditional static rules, machine learning, or a hybrid combination of both
Multi-hierarchy: manage your fraud strategy at any level (set up rules per branch, country, MID, etc.)
Payment methods variety: choose from all presented card products, direct debit, and alternative payment methods supported by us
Device fingerprinting: benefit from a fully integrated device intelligence at no additional cost
Custom data flexibility: send any extra data fields in the desired format to create fraud rules and enhance their performance
What does it mean for you?
Pre-authorization monitoring: filter potential risks before the transactions are sent to the bank and increase authorization rates
Outstanding dataset: combine Worldline, Microsoft's Fraud Protection network, industry leaders, and your transactional data to build up your own machine-learning fraud tool
Risk appetite calibration: find the optimum balance between approving orders and detecting fraud activity
Virtual fraud analyst reporting: analyze and monitor your controls
Available tools
View the transaction details
A comprehensive transactional summary is easily accessible, neatly organized into predefined sections for your convenience.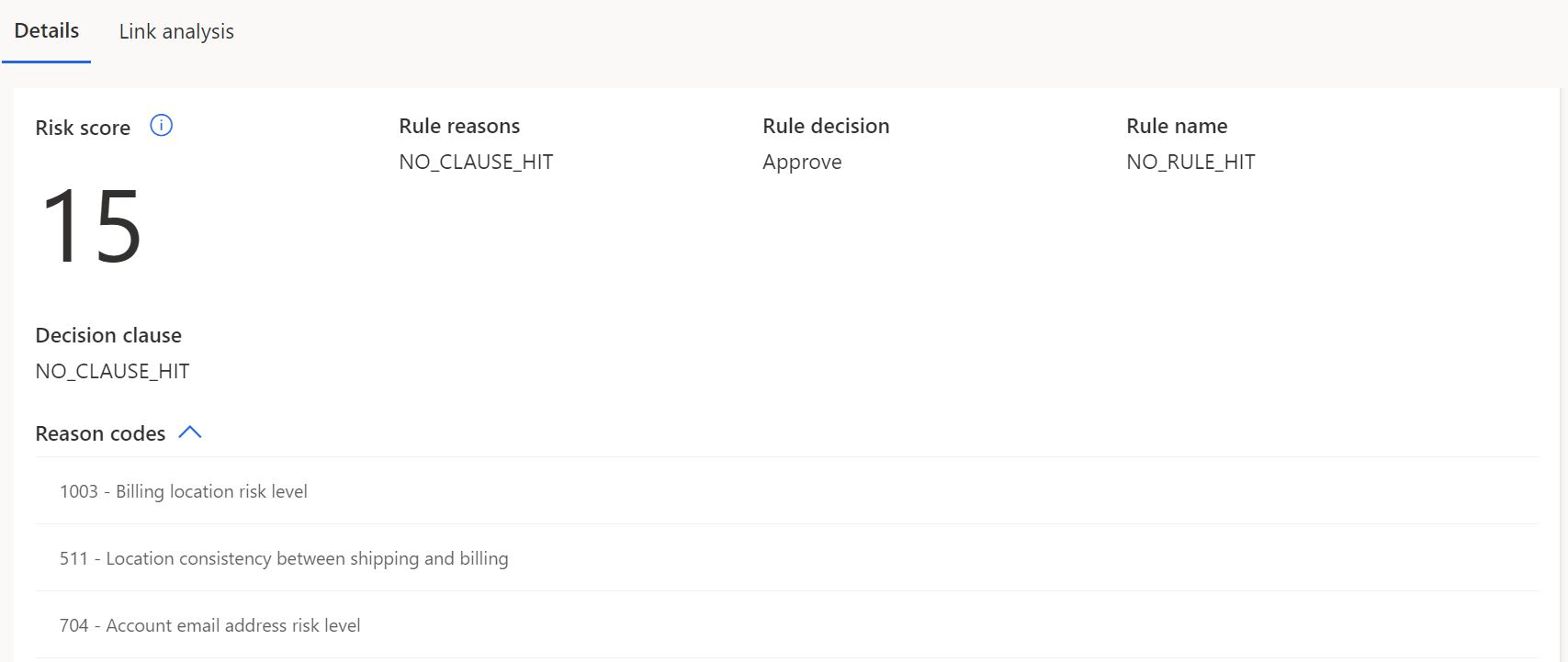 Virtual fraud analyst
You can analyze patterns and gain profound insights into your fraud management controls.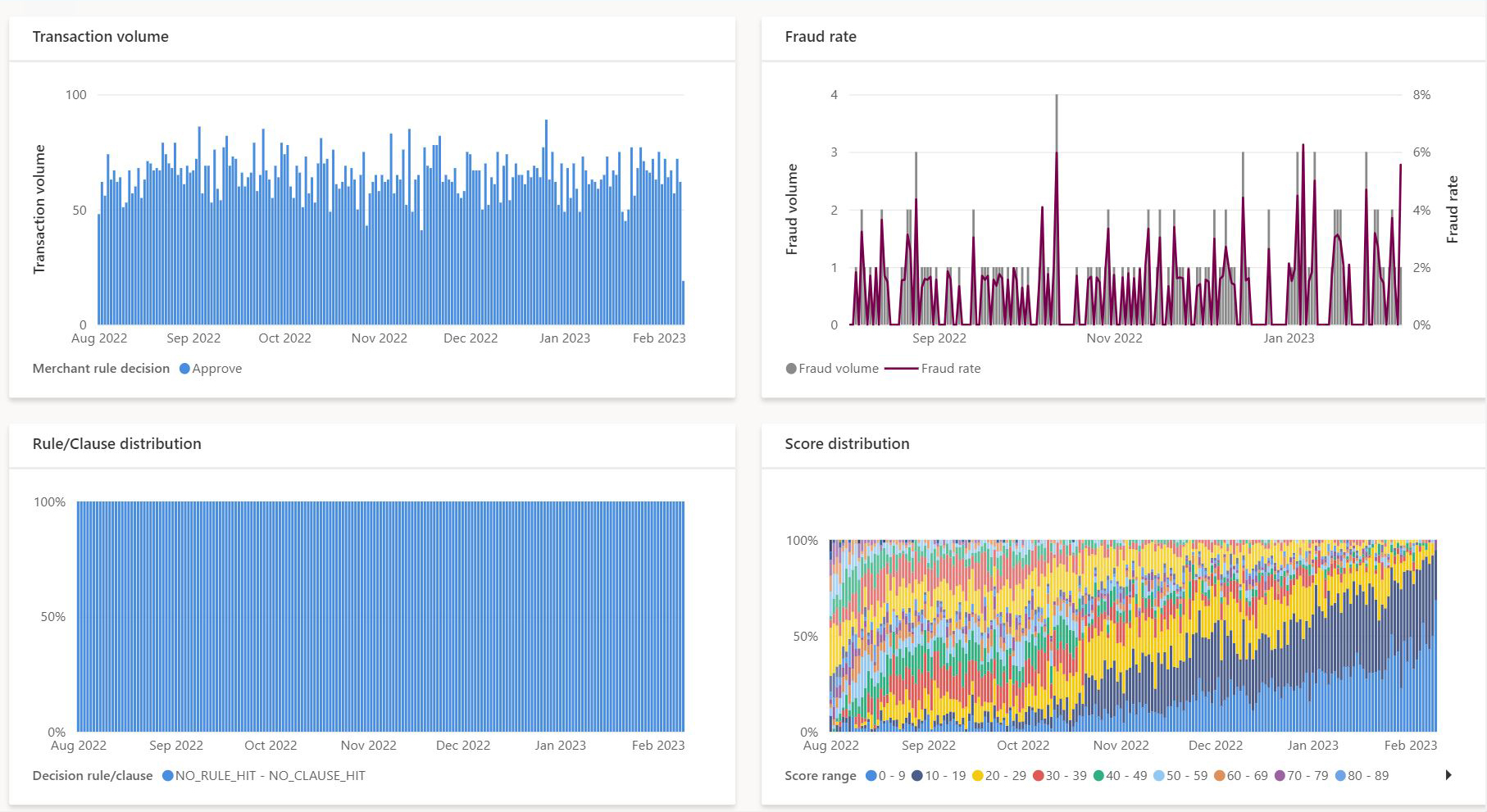 Risk score
This score uses AI to estimate the chance of a transaction being fraudulent. The platform relies on data from the fraud protection network to identify events and detect fraud connections. By carefully examining each transaction within Microsoft Dynamics 365, you can use these identified links to efficiently tackle emerging fraud risks and protect your business.
The more data you send, the better results you get with the AI-powered fraud detection platform. See data fields section for all the parameters you can send in your request.
The risk score is an integer between 0 and 999 (inclusive). The higher the score, the higher the likelihood that the transaction is fraudulent.
Lists
You're free to create Standard, Block, Watch and Safe lists using the built-in functionality to simply add any of these 5 attributes to your list:
User ID
Device ID
IP address
Payment ID
email address
Custom lists are created and defined by you to implement specific business policies to manage your fraud protection strategy. You can reference your lists in rules dynamically.
Rules
You can create rules with the parameters you send in the payment request, use the risk score generated by the AI model, or employ both methods. The output will be a decision that determines the next transaction step.
The rate at which certain actions occur, whether attributed to a user or entity (like a credit card), can be a signal of suspicious behavior and possible fraudulent activity. For example, when fraudsters attempt a series of separate orders, they frequently use one or more credit cards to swiftly perform multiple orders from a single IP address or device. This pattern often points to potential fraudulent actions.
You can also set up velocity checks to monitor unusual patterns and how often suspicious events occur. There's an option to define thresholds in your rules to control and mitigate potential risks effectively.
Case management
When you configure the rules to activate a Challenge decision, it initiates the creation of a case in your designated queue that the fraud expert within your organization will review. You can also categorize these cases into distinct queues for your fraud team to assess manually. To perform a transaction review:
Go to Case Management and select View Cases from the specific queue you need to review. Inspect the transaction details.

Inspect the transaction details.

On the Link Analysis tab, you can examine additional transactions related to the case you're reviewing. Choose specific attributes to display transactions that share the same attributes. This feature helps to trace and understand the links between transactions.

Using this data, decide to Approve or Reject the transaction, specifying the reason (it's also possible to include notes).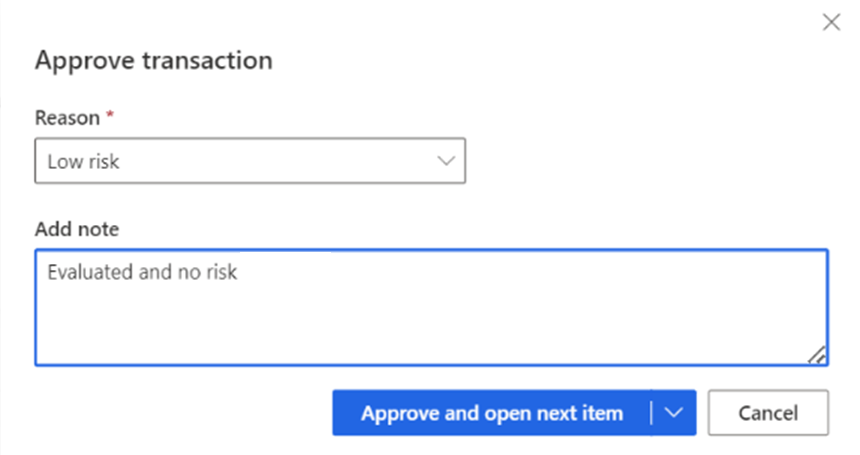 Data fields
When you send a payment request, there are various fields included that need to be filled out. We encourage you to send as many fields as possible, as not all of them are mandatory. Sending more data in your request also helps the machine learning models to get educated in real time by consuming and assessing the data signals for more effective fraud detection.
| | |
| --- | --- |
| Mandatory | Compulsory data points. If these fields are not sent in your request, the fraud screening request cannot be processed. |
| Highly recommended | Useful data points that are favorable in helping you detect fraud. You should strongly consider sending these fields in your request to enhance your fraud detection. |
| Specialized | Essential data points if you are operating in a specific industry. |
| Conditional | Required data points for you to use depending on that specific object. If you don't include them, the entire object will not be sent for fraud screening, affecting your overall fraud detection results. |
| Supplementary | Optional data points that can improve your fraud detection. |
Some of the objects down below are conditional, such as:
shipping

- only applicable if you ship physical goods

fraudfields

- custom fields for data points that are specific to your business (you may find it beneficial to use them for your fraud rules)

mandate.customer.companyName

- o

nly available for PPID 771

mandate.customer.bankAccountIban.iban

- only available for PPID 771 and 770
For a detailed description of data fields, refer to our API reference.

Data field in your request using Create Payment or Hosted Checkout

Our recommedation

Object

Data field evel 1

Data field level 2

Order

amountOfMoney


currencyCode



Highly recommended (mandatory for creating a payment request)



amount



references


merchantReference



Supplementary

additonalInput.airlineData


agentNumericCode



Specialized: industry-specific for airline merchants



code





flightDate





flightLeg

airllineClass





carriercode





date





arrivalAirport





fare





fareBasis





departureTime





flightNumber





orginAirport





number





stopOverCode

















invoiceNumber





merchantCustomerId





isETicket





issueDate





pnr





ticketDeliveryMethod





passengerName





ticketNumber





placeOfIssue





pointOfSale





posCityCode





isRestrictedTicket





isThirdParty





name

additionalData.lodgingData






Specialized: industry-specific for hospitality merchants



charges

chargeAmount





chargeAmountCurrency





chargeType



folioNumber





checkInDate





checkOutDate





isConfirmedReservation





numberOfAdults





numberOfNights





numberOfRooms





propertyPhoneNumber





propertyCustomerServicePhoneNumber



rooms

typeOfRoom





typeOfBed





dailyRoomRate





dailyRoomRateCurrencyCode





dailyRoomTaxAmount

customer


merchantCustomerId



Mandatory



contactDetails

emailAddress

Highly recommended



personalInformation

name

Supplementary





firstName





surname



locale



Supplementary



billingAddress

street

Highly recommended





houseNumber





additionalInfo





zip





city





state





countryCode



device

deviceFingerprintTransactionId

Conditional





ipAddress

Supplementary





timezoneOffsetUtcMinutes

Supplementary



account

paymentAccountOnFile

Recommended





createDate





numberOfCardOnFileCreationAttemptsLast24Hours





hadSuspiciousActivity

Recommended





authenication

Recommended





method

shipping


type



Highly recommended



email address





additonalInfo





address

name





title





firstName





surname





surnameprefix





street





houseNumber





zip





countryCode

shoppingCart


items

amountOfMoney

Specialized





currenyCode

Conditional





amount

Specialized



orderLinesDetails

productCode

Conditional





productType

Specialized





productName

Specialized





productCategory

Specialized





productPrice

Specialized





quantity

Specialized

cardPaymentMethodSpecificInput

paymentProductId



Mandatory



card

cvv

Supplementary





cardNumber

Highly recommended





expiryDate

Highly recommended



skipfraudService



Supplementary



isRecurring



Supplementary



recurring

minFrequency

Supplementary





endDate

Supplementary





recurringPaymentSequenceIndicator

Supplementary

fraudfields

customerIpAddress



Supplementary



shipmentTrackingNumber





shipComments





isPReviousCustomer





orderTimezone





defauktFormFill





giftCardTpe





giftMessage





userData

propertyValue1.16

threeDSecure

skipAuthentication



Highly recommended
---